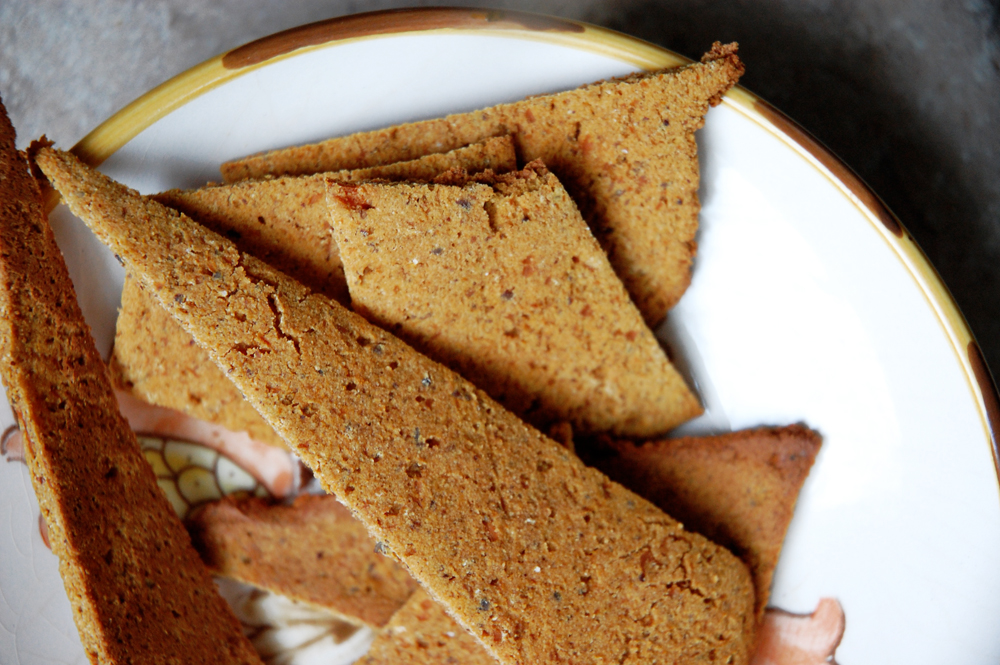 A sturdy little recipe, yes indeed. May your holiday season be flavorful, friends. And if not, well… let's make it so!
Sweet Potato Crackers
1 cup sweet potato, cooked
2 eggs
1/3 cup melted butter (or fat/oil of your choice)
1/2 cup + 2 tablespoons coconut flour
1 teaspoon baking powder
1 teaspoon sea salt
1/2 teaspoon onion powder
Preheat oven to 350. Combine all ingredients in a food processor until smoothly blended. Prepare two baking sheets with parchment paper or silicon liners. Divide the dough equally as one blob per baking sheet. Take a large piece of parchment paper and lay it over one tray and its blob–using a rolling pin, cup or wine bottle, gently roll out the dough until it is a quarter inch thick. Slowly peel off the parchment paper and repeat this process with the other tray (using a new sheet of parchment). Sprinkle with additional sea salt and herbs if you desire. Place sheets in the oven and bake for 15 minutes. Take out and score the dough into whatever cracker shapes you desire. Return to the oven for another 10 minutes. If the crackers are not crispy enough by this point, turn the oven off and leave them in there as it cools. Serves 4-6 as a dipping tool of sorts.
Save