Reader's digest(ion)
Spiced pumpkin muffins gently sweetened with honey. Luxurious, gluten-free (And grain-free! Double win!), and easy for anyone to whip up in a jiffy. Even more special, these sweet treats align with the Specific Carbohydrate Diet (SCD), a style of eating often adopted by those who need extra care in making sure the carbohydrates they eat can be readily absorbed by their digestive tracts. Often, many of the reasons a digestive system may need these easier-to-digest carbohydrates can be autoimmune in nature, such as Crohn's Disease or Ulcerative Colitis.
Autoimmune conditions can be scary. This week I spoke about what autoimmune really means over on the You Have a Body podcast. Whether you're steeped in the wellness community, or if you're brand new to the term, an important note to make when discussing autoimmune disease is that its malfunction is rooted in the immune system. This is a note I particularly try to share with clients during private nutrition consults–you wonder why your autoimmune flares increase after a work trip? You are curious why you're just that sensitive person, or why the change in seasons seems to affect your autoimmune condition?
It's because our bodies are one large, gloriously tangled mess of a functioning machine. I know. No one wants to hear it! But it's so, so true. Just like we consider something like clinical depression to be a psychological disorder, and we tell people that if their brain chemistry just changes, then, well… boom! Fixed! Yet wait just a minute… our brains are housed in our bodies. And wait again, some of the most potent and long-lasting tools in supporting mental wellness include exercise and other inflammation-reducing activities and choices… our whole bodies are involved in wellness shifts. So when something feels off (and it's not, you know, like a broken bone or a sprained ankle or something…), come back to your digestion. See what it starts to say… because as much as we may not want to hear it, it's always speaking to us.
One carbohydrate at a time
Learning how to maneuver a new style of eating is, well, legit a difficult process. It can feel isolating, even as health and wellness is being restored as a result of these new patterns of eating. Luckily, these muffins don't have to let anyone know you're doing something different. Though if you are… be proud, my friends. Reclaiming say over the foods you interact with, especially creating knowledge around foods that support a less inflamed and higher functioning digestive system, is no small feat and at least in my book, could be highly rewarded by anyone who is lucky enough to be graced with hearing your story. UNTIL THEN (because you know, people are people and food stuff can be weird), bring these muffins with you to your next fall or winter gathering and I have a feeling no one is going to say anything past a "OH! Yum! Can I have the recipe?"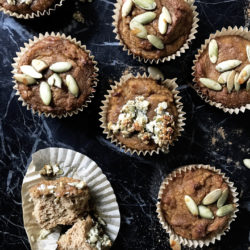 Spiced Pumpkin Muffins (SCD, Paleo)
Ingredients
6

eggs

pasture-raised/free-range, if able

1.5

cups

canned pumpkin puree

1/3

cup

butter

ghee or coconut oil, melted

1/3

cup

honey

or maple syrup if not SCD

2

teaspoons

vanilla extract

1/2

cup

coconut flour

1.5

teaspoons

baking soda

1/2

teaspoon

sea salt

2

tablespoons

pumpkin pie spice
Pumpkin Seed Crumble Topping
1/2

cup

pumpkin seeds

toasted and cooled

1/4

cup

butter

softened

2

tablespoons

honey

1

teaspoon

pumpkin pie spice
Instructions
Preheat oven to 375.

Line a muffin tin with paper or silicone muffin liners.

In a large bowl, combine all wet ingredients until smooth. Set aside.

In a small bowl, whisk together the coconut flour, baking soda, sea salt and pumpkin pie spice.

Gently mix the dry ingredients into the wet until combined, then allow the muffin batter to rest for 5 minutes (this helps the coconut flour fully absorb the liquid).

While letting the batter set, grind the pumpkin seeds briefly in a blender, food processor or spice grinder until roughly ground.

In a small bowl, combine the ground pumpkin seeds with the softened butter, honey and pumpkin pie spice. Set aside.

Portion out muffin batter into the prepared muffin tins, filling each muffin cup about 3/4 full with batter. Gently press the pumpkin seed topping into each muffin.

Bake for 18-20 minutes, then allow to cool for a few minutes before popping the muffins out of the tray and placing on a wire rack to cool.